PIRANHA PLASMA TABLES
C Series Plasma Tables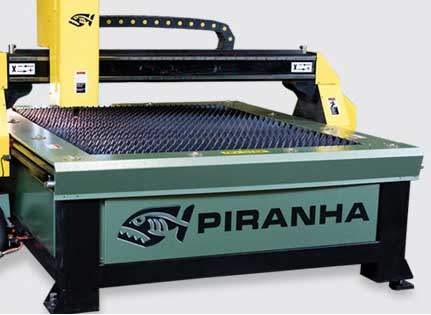 Piranha C-Series plasma tables provide a reliable quality plasma cutting solution at a low investment level, making Piranha quality and durability attainable for a broader range of shops.
AVAILABLE SIZES:
AVAILABLE OPTIONS
Hypertherm® Powermax® Plasma System:
Powermax 45®
Powermax 65®
Powermax 85®
Powermax 105®
Powermax 125® (With optional Water Table)
Tube Cutting Attachment (Optional) Side mount with 2" – 11.5" diameter by corresponding table length (4', 8', 10') cutting capacity, no additional torch required
Real machine tool construction at a great price
Solid – Built to last
Piranha support, parts, warranty, and easy startups
Available in 3 sizes – 4'x4′, 4'x8′, and 5'x10′
Welded tube frame
Servo control drive motors
Dual side drives for better positioning accuracy
Linear guides and bearings for best accuracy
Hypertherm Powermax from 45 amp to 125 amp available
Hypertherm ProNest LT offline software
Optional pipe cutting attachment
HD Series High Definition Plasma Tables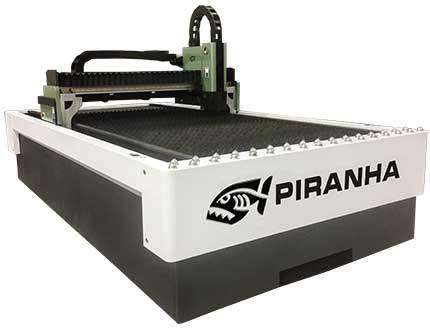 Piranha HD Plasma tables provide near LASER cut quality for a significantly lower investment than fiber LASER cutting. That makes Piranha HD plasma tables an excellent value for precision cutting, at a cost lower than competing plasma cutters.
AVAILABLE SIZES:
AVAILABLE OPTIONS
Hypertherm® Plasma System:
Hypertherm Powermax 125
Hypertherm MAXPRO200
Hypertherm HPR130XD
Hypertherm XPR170 Core or Optimix* Console
Hypertherm XPR300 Core or Optimix* Console
---
Welded frame – not bolt together
Hypertherm CNC controls with shape library and easy to use interface
Panasonic servo motors – high power for good contour definition and 800 IPM rapid speed
Dual side drives for better positioning accuracy
Zoned downdraft table with six zones for efficient fume extraction
Breakaway torch with sensors
Plasma systems ranging from Hypertherm Powermax 125 to XPR 300
B Series Plasma Tables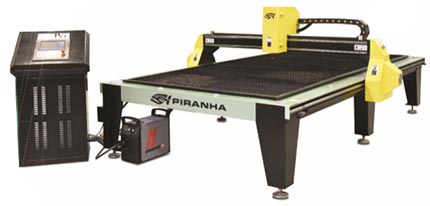 Piranha's latest Plasma Table line introduces an even more affordable plasma table. The Piranha B-Series Plasma Table is perfect for your hobby to light industrial cutting needs. This table retains a lot of the high end features found on the C-Series table and only is short some of the things you don't need when looking at lighter duty cutting cycles.
AVAILABLE SIZES:
AVAILABLE OPTIONS
Hypertherm® Powermax® Plasma System:
Powermax 45®
Powermax 65®
Powermax 85®
Powermax 105®
Powermax 125®